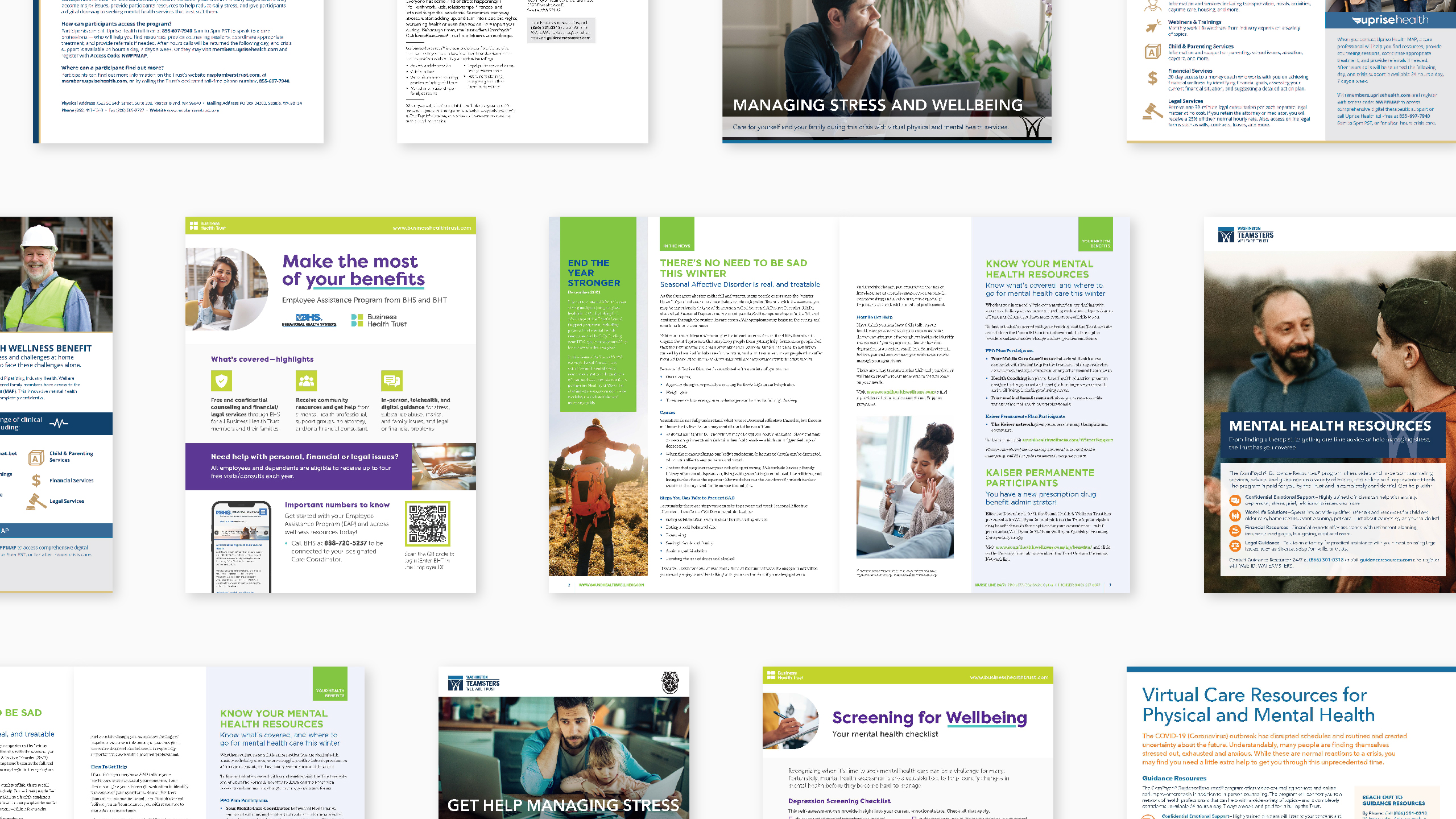 Employers, multi-employer and association trusts and health plan administrators have been grappling with increasing mental health challenges that are affecting employees across all industries. To help employees find behavioral health care that work for them, many are adding services or looking to better promote access to existing resources.
A Growing Need
Recent studies show that nearly half of employees report they feel stressed in everyday life. Job-related stress tops the list, followed closely by depression and anxiety, then financial stress and problems with substance use.
Health plan sponsors have started to realize that it's not enough to simply cover mental health services or add an Employee Assistance Program (EAP) to the benefit mix – although that's a great start! Many recognize that along with offering mental health coverage, they need to help people understand their benefits. Even more than with most other types of benefits, effective communication is crucial to driving awareness and engagement.
One Solution: Frequent Communications
Mental health is a complex topic and can come with stigma, shame, and cultural barriers around needing or asking for help. Frequently sharing information about plan mental health benefits and resources can help encourage open dialogue about mental health challenges and reduce stigma in the workplace.
"Communicating with plan participants about mental health issues and available services and resources is vital," said Megan Aukema, VP and Communications Leader. "The more frequently mental health issues are communicated—openly, simply, and non-judgmentally—and the more paths to care (online, in person, app-based) offered to people, the more likely a participant will make use of available services." 
What We're Doing
Many of our clients have engaged us to help encourage participants to use their mental health benefits, and provide resources and information about how to take care of their minds as well as their bodies:
Northwest Plumbing & Pipefitting Industry Health, Welfare & Vacation Trust (NWPP)
A foundational tenant of this fund is caring for their participants—and this includes their mental health. When the Trust added a new comprehensive mental health wellness program, Uprise Health MAP, we worked with them to announce and promote the program to their Trust participants and retirees. We met directly with Uprise and together created a detailed rollout of the program with ongoing outreach.  See overview of client work.

Business Health Trust
We helped this association health plan by designing monthly toolkits employers can use to share relevant mental health information with their employees, and regularly remind them of the mental health care services and resources available to them. Topics have ranged from suicide prevention to stress reduction to how to use the EAP that BHT bundles with the majority of their plans. See overview of client work.

Washington Teamsters Welfare Trust
We help this Taft-Hartley trust promote the ComPsych GuidanceResources® program from wellness partner Vivacity. Regular and targeted communications help encourage plan participants to make use of the many mental health, stress, addiction, and other support services ComPsych offers. See overview of client work.

Sound Health & Wellness Trust
We help communicate regularly with participants about wellness and mental health, with quarterly newsletters that feature useful information and resources to improve mental health and reduce stress. See overview of client work.

If you need a partner to help communicate to plan participants, please contact us to see if we might be a good fit. We work with Taft-Hartley Trusts, multi-employer plans, non-Federal governmental plans and others to create communications programs with regular, timely communications designed to empower participants, increase engagement and improve participant experience.