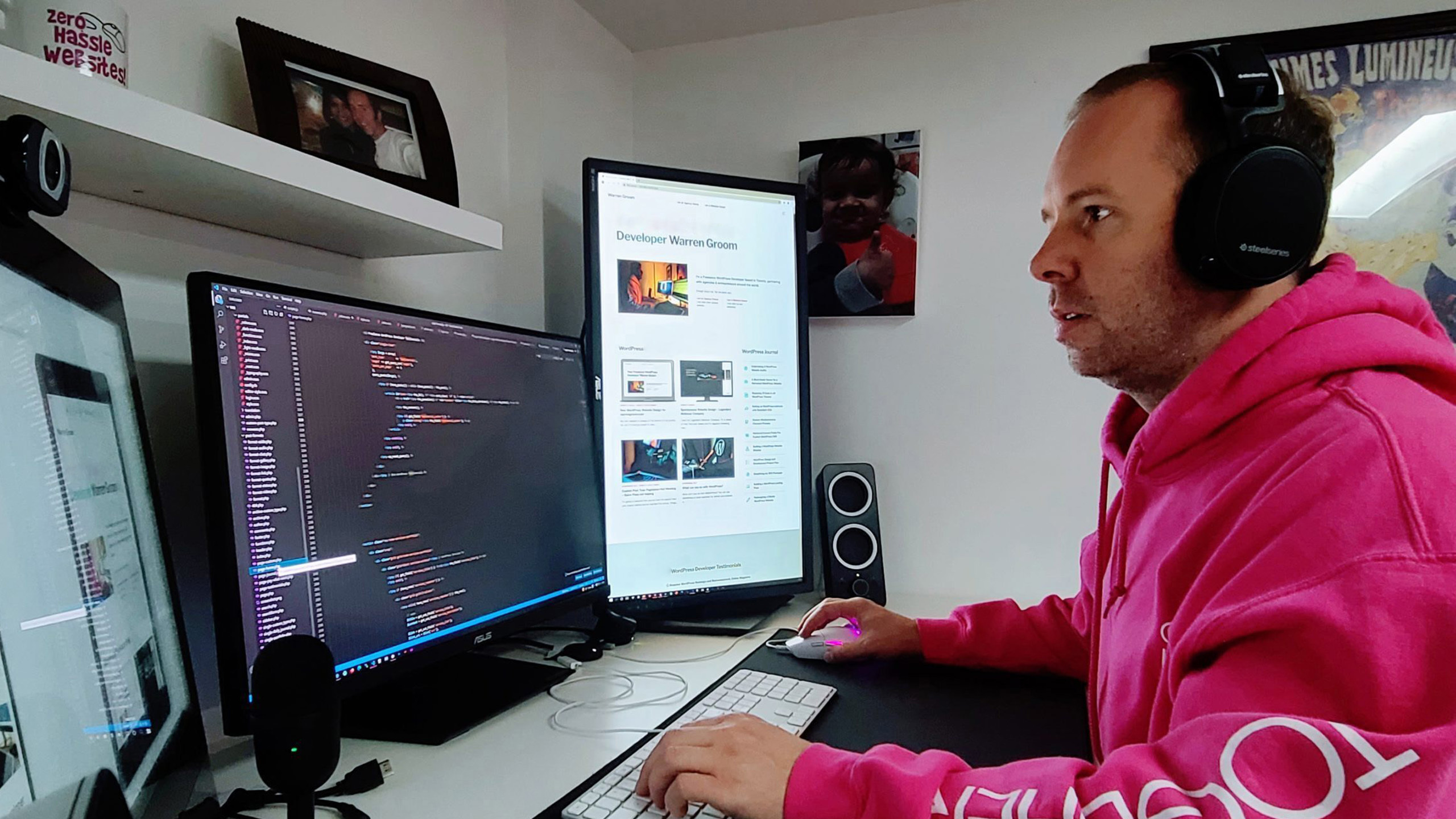 From time to time, we are asked if we can design a WordPress website using third-party themes and templates. As the world's leading website platform, WordPress has inspired developers to create lots of pre-made themes and templates, so wouldn't it be cheaper and easier to use a template?
We sat down with Warren Groom, Aukema & Associates' Lead Developer, to explain why we don't design WordPress websites using third-party themes and templates, and instead do our own coding. Warren has been working with Aukema & Associates for eight years and has been developing websites for 17 years.
There are so many WordPress themes and templates out there that are relatively cheap and even free – why wouldn't you use those instead of building the site yourself?
Yeah, using pre-made WordPress themes and templates may seem like a cheap, easy way to get a basic site up fast, but we've found, at least for us, that it can be more trouble than it's worth.
First, off-the-shelf themes tend to be built to accommodate anyone and everyone. So they are developed with lots of functionality, features, and page types – most of which you will never use. All those features and functions built in "just in case" lead to a huge amount of code. And code bloat can be a real problem when it comes to page load times and site performance.
Your page speed is now used as a ranking factor for mobile searches. If your page loads too slow, Google may not rank your site in the top 10 – no matter how great your keyword and on-page SEO are. Also, the more complex the coding, the higher the risk of future issues like bugs, inconsistencies, performance and/or security issues and conflicts with third party plugins and software.
Second, you have to remember you can't just launch a site and forget about it. From the beginning, you need to plan to update and maintain your site over time. Regularly updated content on your site can vastly improve SEO. This is all about how well your site ranks on search engines like Google, and how easy your site is to find by prospective customers.
Also, every website needs ongoing maintenance. WordPress websites using third-party themes and templates still require regular updates. New versions of WordPress come out on a regular basis, and plug-ins are continually being updated. Your site needs to be up to date with the latest version of WordPress and associated plug-ins and other web technologies to keep it secure and functioning properly. Unfortunately, support for off-the-shelf themes and page builders can stop at any time, leaving you with an aging, and often broken website.
While we've just talked about why we don't design WordPress websites using third-party themes and templates, is there ever a situation in which you'd recommend someone use a WordPress template or a site builder?
Sure. If you are a small business owner or individual who does not have money to contract with a web designer or marketing company to create a site for you, and you have the time and interest to build your own site and keep it maintained and updated, you should go for it! I would just recommend that you carve out time to research your audience and understand their needs, and then make sure you choose a theme or site builder suitable to those needs.
Once you have chosen a theme, I recommend building a dummy site or two in order to familiarize yourself with the CMS before you build your actual business site. Every time you build a WordPress websites using third-party themes and templates, you'll learn a lot. You'll soon realize why you didn't want your first attempt to be the site you present to the world. Once you're live, dedicate regular time to making additions and edits, keeping your website up to date and tracking site usage.
So, if I don't have the time and interest for a DIY site, and a custom, hand-coded website is simply too expensive, what are my options?
We know, especially for small businesses and nonprofits, that the cost of developing a custom website can be prohibitive. But at the same time, in this day and age, having a highly functional website is the foundation for digital marketing – and is a must for most businesses. We have been working on this problem for a while and have recently rolled out a new subscription service that we think clicks all the boxes – SitePilot!
Our SitePilot monthly subscription has low up-front costs to get a small, professional site up quickly.  Then with your monthly subscription, we help you maintain and grow the site, updating content, adding new pages, features or functionality.
The subscription model is great because it allows for frequent updates (which is great for SEO); it is a hands-off solution allowing you to focus on running your business; and security, performance and ongoing software maintenance is all included for complete peace of mind. The best part of it, I think, is that you get a project manager – a real person who is looking after your website at all times, who will help you grow your site, and who you can reach out to with any problems or digital marketing questions.