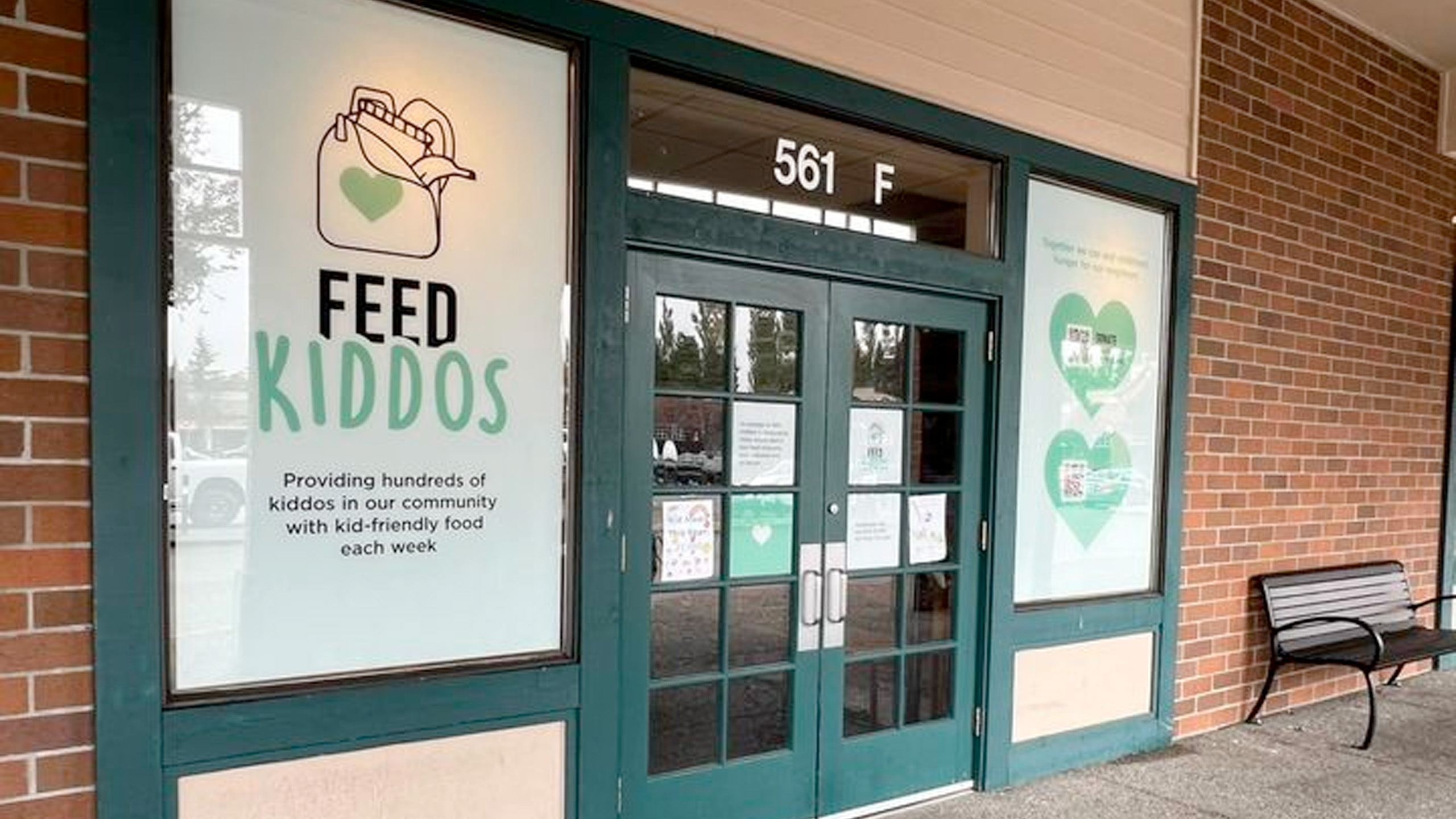 This year, Aukema & Associates was thrilled to have the opportunity to help a non-profit program formerly called the Weekend Food Backpacks program rebrand itself to the Feed Kiddos program. With a new name, logo and signage for the storefront of their donation center, the program – which is part of the Helping Hands Ministry – is becoming a more established and easily recognized food program serving Snohomish Valley residents.
The Feed Kiddos program serves 200+ children a week, sending them home each weekend with enough food for meals on Saturday and Sunday. Feed Kiddos also offers Summer and Holiday packs, feeding children experiencing food insecurity over school holidays and breaks. Each pack is filled with kid-friendly, easy-to-make meals and snacks.
So far this year, Feed Kiddos has provided over 68,000 meals to kiddos in the Snoqualmie Valley!
To help promote the program and differentiate it from other food assistance programs in the area, Aukema created a logo that conveyed the nature of the program but also made clear the connection to Helping Hands Ministry. To do this we combined the visual elements and colors from Helping Hands Ministry with the concept of a children's backpack filled with nutritious food.
The storefront signage features QR codes so any curious passersby who are interested in donating or volunteering can find information on the spot! Small donations go far, with just a $10 donation providing a weekend of food for a child in need.
The Helping Hands Ministry (HHM) exists to bring practical assistance to the Snoqualmie Valley through support and emergency relief of all kinds. Services include emergency food assistance, help with gas, rent, and utilities, and other needs that arise for those who find themselves in a situation where a helping hand can significantly impact their lives.
Through their on-going work, HHM noticed a huge and growing need for food assistance for kids. Almost 200 children in the Snoqualmie Valley were coming to school hungry on Monday morning because of limited availability of food when they weren't in school.  To help solve this problem, HHM developed the Feed Kiddos program.
As the program has grown, so has the need for ways to get the word out – to potential families in need, and to the community for on-going support.