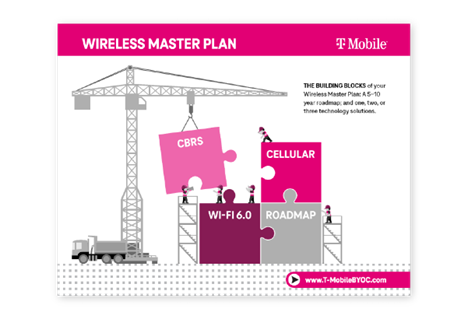 We've worked with the Build Your Own Coverage (BYOC) team for years, helping to grow the in-building wireless program.
In 2020, the COVID-19 pandemic led to a surge in the use of digital technologies for work and play, increasing the demand for in-building wireless coverage to almost 100% – and helping building owners improve their coverage became imperative.
In our research, we found that many building owners and operators felt overwhelmed by the idea of building their own wireless network and needed a great deal of education. We worked with the BYOC team to develop a strategy to reach this audience and deliver the information they needed to find a wireless partner and apply for T-Mobile's BYOC program.
With strategic marketing consultation, social media marketing, website management, and development of marketing collateral and resource materials, we're helping the BYOC team position T-Mobile as the go-to resource when it comes to learning more about the importance of having reliable wireless signal indoors. Check it out at T-MobileBYOC.com.
#WeLoveOurClients – Take a look at Our Work for more information on the additional brand strategy, integrated marketing communications, web design, digital marketing, and communications planning work we are doing with T-Mobile.