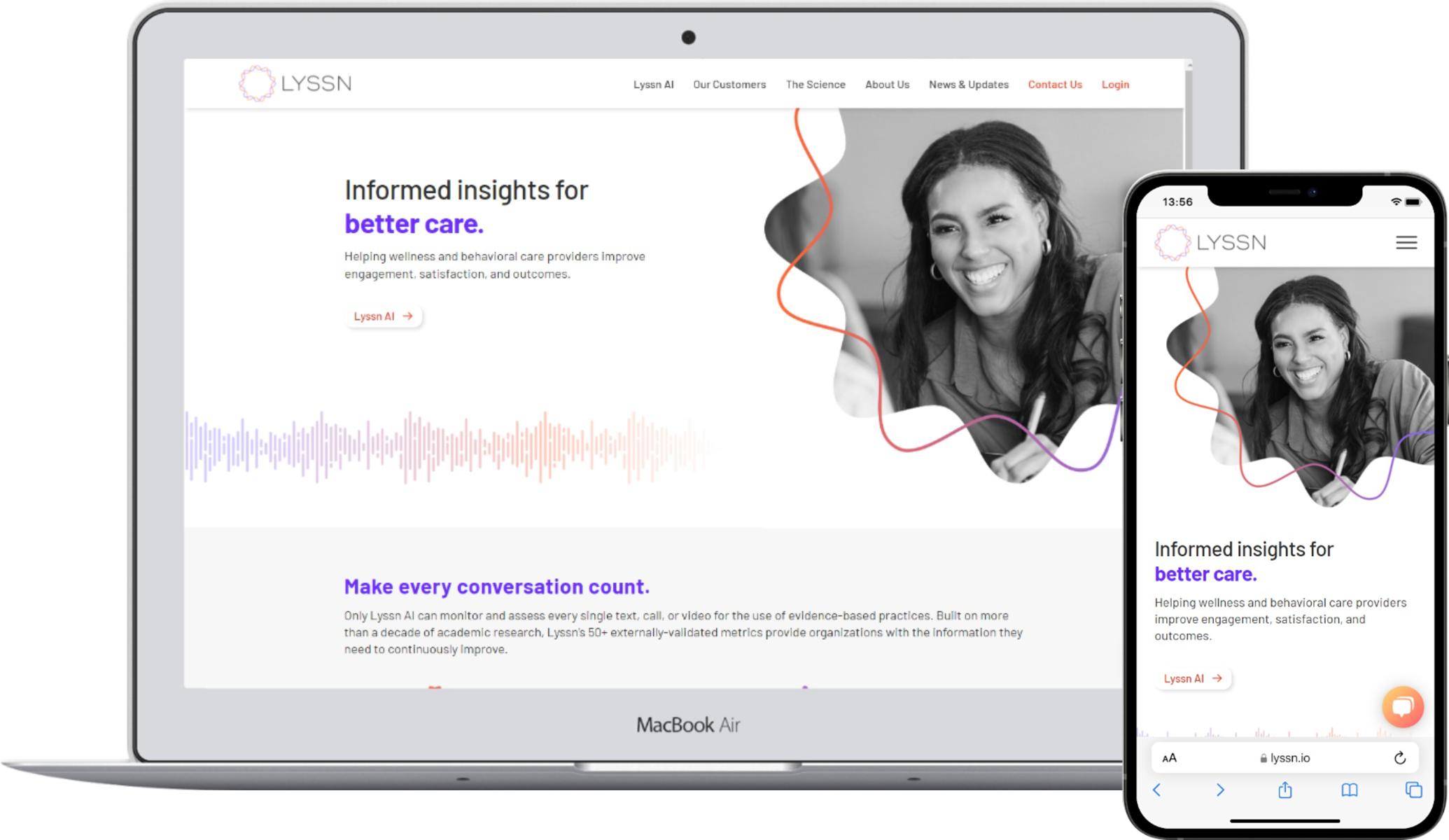 Lyssn was founded by top academic researchers, clinicians, and AI experts. They came together with a question: Can the voice technology we use for maps, talk to text, and things like Alexa, be trained to understand empathy, the use of evidence-based practices like Motivational Interviewing, and provide meaningful feedback to clinicians and coaches? This inquiry unleashed 12+ years of research, National Health Institute grants and papers, and the collection and analysis of thousands of de-identified real-world therapeutic sessions – the largest data set of its kind.
Originally created for the academic environment to improve the way therapists are trained, and to help with ongoing learning, the team quickly realized that the AI they had created could do a lot more and created Lyssn.
What is Lyssn AI?
The Lyssn AI platform provides valuable data and analytics on evidence-based clinical practices that can help wellness, behavioral health care, and social service providers improve skills, and help supervisors and organizations better support clinicians. The platform can also assist with clinical documentation, skill assessment for hiring and training, and be used to demonstrate quality across an organization.
Finding their way in the marketplace.
Lyssn came to Aukema & Associates with their AI technology fully formed, a team of brilliant and driven people on board, and a clear vision about improving the way care is provided, but without a strong market presence. We worked with the company and their existing brand to refine and expand their identity and create a messaging platform that clearly articulated the company's value proposition. We recommended strategies and next steps and began implementing the new brand with a complete re-design of the Lyssn website with all new content, and a variety of new sales and marketing materials.
The new stronger brand helped to position the company in the market and communicate in a compelling way to their various target audiences in wellness, behavioral health, and social services – it even opened them up to new audiences and industries! Since working with Lyssn they have launched with large telehealth providers, behavioral health provider groups (here and in the UK), several states Department of Family Services, addiction and suicide prevention service providers, and more. We continue to assist in creating collateral, blog posts, and case studies, and aid in ongoing public relations, marketing communications, and digital marketing support. Learn more about Lyssn AI.
#WeLoveOurClients – Take a look at Our Work for more information on what we are doing with Lyssn.