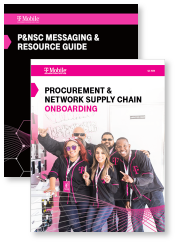 After many months (well, years) of anticipation, T-Mobile's merger with Sprint was announced April 1, 2020, leading of course to a flurry of activity—all done remotely.
We were on hand to help quickly create presentations and onboarding guides for new employees, update materials and tweak departmental brands as the two companies come together. Better, faster, more reliable cell service? Yes, please – now more than ever.
#WeLoveOurClients – Take a look at Our Work for more information on the additional brand strategy, integrated marketing communications, web design, digital marketing, and communications planning work we are doing with T-Mobile.