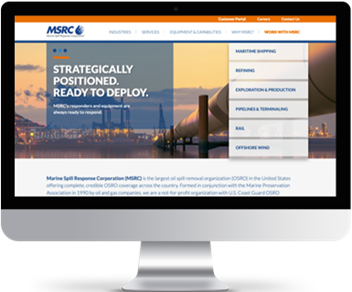 Marine Spill Response Corporation (MSRC) is the largest oil spill response organization in the U.S. They also have a unique structure as they are a not-for-profit formed by the Marine Preservation Association (MPA) in conjunction with oil and gas companies. To employ MSRC customers must first be members of the MPA.
MSRC services six different industries: maritime shipping; refineries; oil exploration and production; pipelines and terminals; rail; and offshore wind. All have the potential for oil or other spills, but with varying needs. Those six categories also break down into many other subgroups, whose needs, and size can also change from one to the next.
With all this, MSRC came to Aukema & Associates in a position of needing to share a lot of information and a complex business structure in a clear and easy-to-understand way. We got to work designing, writing, and developing a new website for MSRC that would help re-vitalize the brand, clear up confusion around membership and services, and make finding information quick and easy. Though first we had to immerse ourselves into the world of oil response services and to deeply understand the industry ourselves!
After much research and guidance from our engaged and knowledgeable client, we were able to create a site that was not only easy-to-navigate, but also beautiful. The public site was designed to serve as the primary source of information on working with MSRC, with the goal of helping users quickly find specific information and explore MSRC's vast amount of available equipment and resources. The login-only customer portal allowed customers to efficiently report a spill incident or to locate important forms and documents.
Creating such a streamlined site for a storehouse of complex information was a challenge, and one we were excited to take on. See the result for yourself!