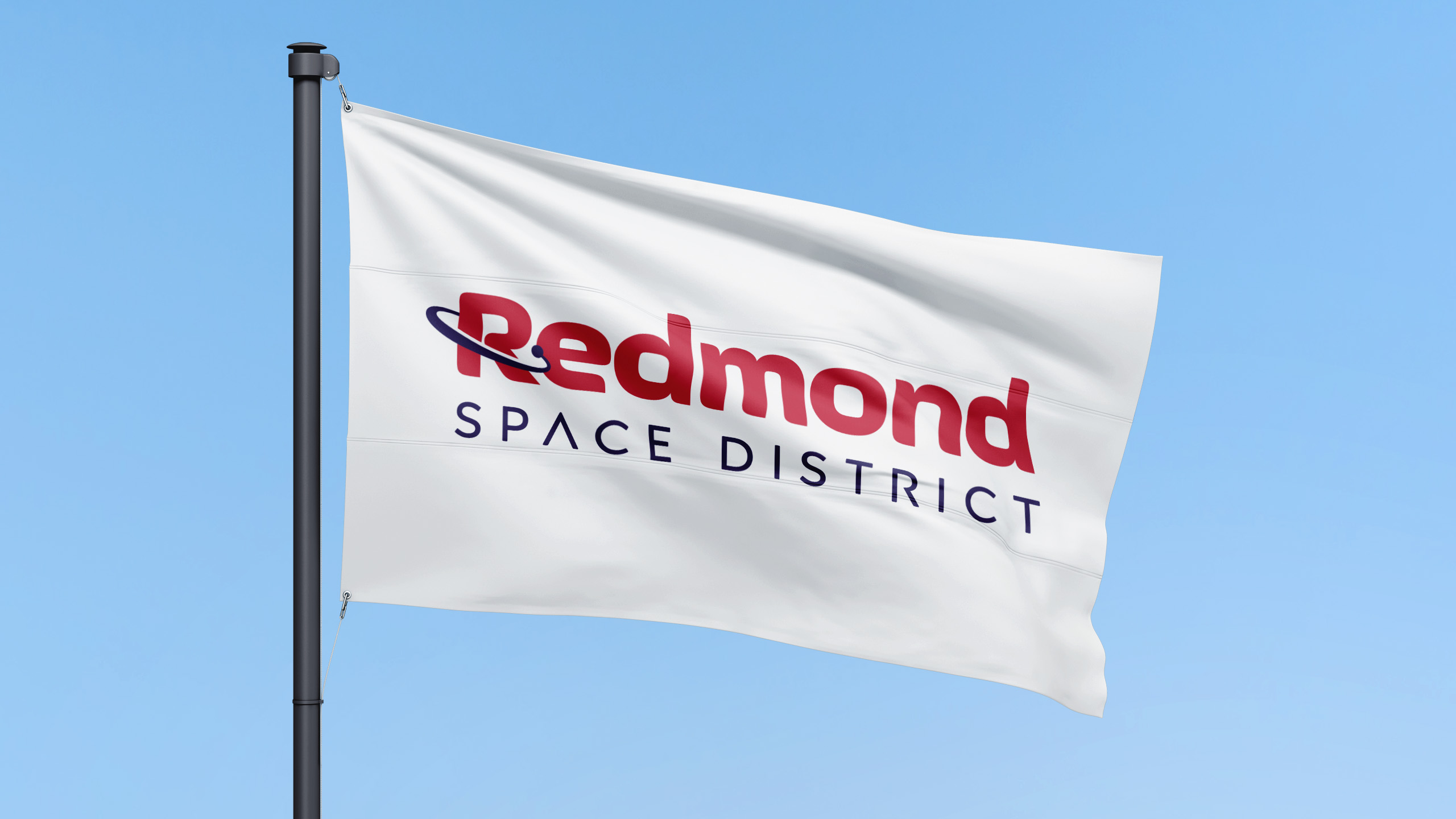 At Aukema & Associates, we love working on projects that have a meaningful impact on our community, so we were thrilled to have the opportunity to help launch the Redmond Space District with the design of a new logo.
Introducing the Redmond Space District
Mayor Angela Birney announced the launch of the Redmond Space District, in partnership with OneRedmond, at the annual State of the City Summit in March 2023.
The new Redmond Space District designation recognizes Redmond's growing global leadership in the space industry – for good reason! Redmond produces more satellites than any other city in the world and the city hosts a slew of aerospace companies, including two of the largest satellite manufacturers in the world: SpaceX and Amazon's Project Kuiper, as well as rising star Xplore, an innovator in Earth observation data products.
Redmond's growing commercial space sector also includes Aerojet Rocketdyne, Honeywell Aerospace, Kymeta, Microsoft's Azure Space, RBC Signals, Spectralux, and Triumph. Mayor Birney told GeekWire she hopes the campaign will draw even more space ventures to Redmond.
The district offers a supportive business environment and access to a highly skilled workforce, making it an attractive location for companies looking to expand their presence in the space industry. Plus, with proximity to major players in the aerospace industry, businesses have an opportunity to build partnerships and collaborations with established companies in the field, further driving innovation and growth.
Launching the Redmond Space District's Logo
We had a blast working to create a logo to represent the new Redmond Space District. The challenge was to create a logo that was easily identifiable as the City of Redmond, but also represented the broad range of space industry companies that make up the new space district.
"The logo uses futuristic typefaces that embody the aerospace industry," said Megan Mowrer, our lead designer. "The red color aligns with the City of Redmond brand and the orbit around the "R" ties in the outer space theme."

We were excited to see the logo adorning lapel pins at the State of the City Summit in March, and we look forward to seeing it in action on flags at the city's space companies and welcome signs at the city limits. Having the opportunity to help create a brand that will highlight Redmond's growing leadership in the space industry was a thrill, and we look forward to seeing what the future holds for the Redmond Space District as the many space-related companies that call Redmond home continue to push the boundaries of innovation in the space industry.
#WeLoveOurClients – Take a look at Our Work for more examples of our logo design work.